Shot Blast
| | |
| --- | --- |
| | Model: RAM31-SP, - High production shot blast |
RAM Series is a pressure blast system ideal for production environments (air and blast media mixed at the pressure vessel / blast generator).
Tests of plastic media stripping rates of aerospace coatings run by Robert Pauli for the USAF showed that a Pauli Systems pressure blast system removed coatings at the same rate as suction blast systems [such as the Pauli DH series] using 1/8 to 1/5 the air pressure required by the suction machine. Using normal parameters of nozzle pressure a Pauli pressure blast machine will outstrip a suction machine many times over.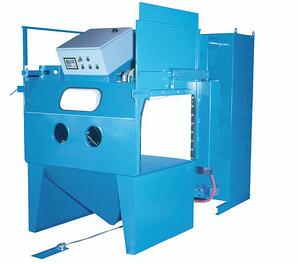 Overview

Description:

The RAM 31-SP shot peening machine gives you a spacious dustfree direct pressure capability to efficiently peen small and large workpieces.





Engineered for shot peening media, the RAM 31-SP gives superb shot peening performance with outstanding flexibility. Built for rugged, continuous applications, the self-contained system can easily handle three-shift operations. Designed for cost-effective operation, the reclaiming section yields optimum production life from each pound of peening media by automatically recovering, cleaning, and reclaiming media.


Function



Dry paint stripping


Media



PMB (Plastic Media Blast) or Starch Media Blast
Advantages

Powerful, fast, efficient cleaning and finishing:

Built for non-stop production, the RAM 31-SP cabinet provides the optimum in heavy duty peening performance.


Reclaim media - reduce costs:





Fine tuneable reclaiming of media yields optimum production from each pound of shot. After striking the work surface, media and dust fall through the work deck and are pneumatically conveyed to the reclaiming section for cleaning.





Inside the reclaiming section a controlled cyclonic action spirals the media and debris, throwing good shot particles to the outer walls, where they spiral down through a dual adjustable air wash system offering independent controls for air wash volume and velocity, which enhances the separation of dust and fines from the reusable media.





A vibrating screen below the air wash traps oversized debris, allowing correctly sized, reusable shot to pass through to the storage hopper. Dust and fines are pulled from the center of the cyclone and the airwash and pneumatically conveyed to the dust collector.





Each time blasting stops, the pressure vessel is automatically refilled with clean reclaimed shot.

Direct pressure blasting without interfering with other operations:

The RAM 31-SP shot peening machine provides a self-contained, highly productive blast area that does not pose a hazard to the environment. Compared to suction systems, the direct pressure blast generator of the RAM31-SP provides double the productivity with superior intensity control and repeatability. Surface finishing operations including deburring, deflashing, peening, etching, stripping and cleaning can go on around-the-clock without interfering with other operations or personnel.


Optimum working environment improves productivity:

We improved your working environment so you can improve productivity. Brilliant lighting allows operators to work more productively on small components as well as large parts. 260 footcandle (280 dekalux) lighting level at the cabinet floor provides exceptional light for exceptional operator performance.

What's more, working in hard to reach areas is easier as a continuous rush of fresh air sweeps through the cabinet providing excellent visibility. Dust laden air is carried to a set of dust collector cartridges for high efficiency filtering. Cleaning is via reverse pulse air jet.

The large 60"W x 48"D x 36"H (152 cm x 122 cm x 91 cm) blast chamber accommodates a wide variety of workpieces. And to increase productivity, many accessories are available.


Operational Durability:

Shot peening is a demanding process requiring equipment having the strongest and highest quality engineering design, manufacturing methods and materials. A RAM 31-SP and accompanying parts and accessories will give trouble-free service under high production operation 24 hours per day, every day of the year for decades.





For sustained steel shot peening applications, the RAM 31-SP is an efficient, reliable, very low maintenance, unfailingly trustworthy machine.
Features

Features:

• Dust free.




• Complies with latest regulations (as of 1991) from California South Coast Air Quality Management District (SCAQMD), Rule 1401, requiring "T-BACT", Best Available Control Technology for Toxics. (The California SCQAMD is, to our knowledge, the most stringent AQMD in the nation.)




• Significant reduction in cost and time of peening compared to suction machines.




• Designed specifically for shot peening blast media, metallic and non-metallic. Also functions superbly with glass, aluminum oxide, and other abrasives.




• Newly engineered from the ground up for maximum blast and media recycling efficiency.




• The only machine with smooth, non-pulsing media flow for process repeatability.




• External vacuum return, dust free, closed cycle gun option allows peening of parts outside cabinet.




• Many other options and features.
Stock Number

494-070-31 complete cabinet shot peening system with


Overall Cabinet Dimensions (w x d x h)

65 x 49 x 76 in
165 x 125 x 194 cm


Overall Power Pack Dimensions (w x d x h)

63 x 40 x 91 in


Shipping Weight (Two Pallets)

1500 lb
682 kg


Shipping Cabinet Dimensions (w x d x h)

71 x 55 x 81 in
181 x 140 x 206 cm


Shipping Power Pack Dimensions (w x d x h)

46 x 72 x 94 in
117 x 183 x 239 cm


Work Compartment (w x d x h)

60 x 48 x 36 in
152 x 122 x 91 cm


Door

Counterbalanced doors (Optional)
Two hinged doors (Standard)


Door Opening (w x h)

41 x 36 in
104 x 78 cm


View Window

10.5 x 22 in
27 x 56 cm


Ventilation

840 CFM (23.8 CMM) 14 air changes/minute


Lighting

3 each, 150 watt incandescent. 260 footcandles (280 dekalux) at floor


Compressed Air Requirement

With 1/4" (6.4 mm) nozzle and vibrating screen: 44-51 CFM @ 100 psi (1.3-1.4 CMM @ 7 bar)
With 3/8" (9.5 mm) nozzle and vibrating screen: 80-146 CFM (2.3-4.1 CMM)
With 5/16" (8 mm) nozzle and vibrating screen: 66-77 CFM (1.9-2.2 CMM)

Air Volume

840 CFM (23.8 CMM) recovery and reclaim


Storage Hopper

1.5 ft²
42 L


Vibrating Screen

Consumes 4 CFM @: 100 psi (0.11 CMM @: 7 bar)

Diameter

14 in
36 cm


Bottom Cone

60 degree included angle with media fluidizing bed


Volume

28 L
1 ft³


Foot Control Door Interlocks

RC100P, Lo-Pro Feathertouch®


Door Interlocks

Included to prevent blasting with cabinet door open.


Moisture Separator Air Pressure

3/4" (19 mm) NPT with manual drain


Regulator

3/4" (19 mm) NPS, remote controller and gauge mounted on cabinet control panel


Shot Flow Valve

Shot peening media feed tee with easily changeable orifices


Aeration

Media fluidizing bed assures smooth non-pulsing media flow, in conjunction with 60° cone and straight media flow

Volume Rating

840 cfm
23.8 cmm


Filtration

2 cartridges, each 225 ft² (21 m²) - total 450 ft² (42 m²) of filter area


Filter Cleaning

Reverse pulse air jet cleaning activated via pulse controllers on cabinet control panel

Motor

2 hp, 3450 rpm, TEFC


Electrical

Standard 208-230/460 volt, 3 phase, 60 Hz Optional


Motor Starter

Manual in NEMA 1 enclosure


Motor Current

6.0 - 5.6/2.8 amps, 60 Hz.

Options

Highly recommended for all machines for ease of part handling during blasting is a 28" (71 cm), 500 lb (227 kg) base mounted turntable For heavy parts counterbalanced doors recommended with these options

• Work car and inside track: provides a mobile base for turntable, 1000 lb (455 kg) capacity
• Turntable: 40" (102 cm) diameter, 1000 lb (455 kg) capacity, base mounted
• Track extension: 6 ft (2 m) of outside track to ease loading of parts


Other Options

• Rubber lined HD cyclone. Rubber lined cabinet (recommended with aluminum oxide)
• HEPA filter system
• Electronic automatic pulse controller for dust collector
• Explosion proof electronic automatic pulse DC, lights, motor, starter
• Adjustable position nozzle holder
• Tumble basket: 6 RPM, 1/20 hp, 120 v motor
• External gun kit for vacuum return dust free blasting outside the enclosure
• View window(s) in hinged door(s), for ease of demonstration or supervision of process
• Magnahelic pressure differential gauge, to monitor dust collector filter condition
• Manual media control at cabinet operator station, for time saving "at hand" operator control
• Electronic media control with screw feeder
• Electronic air pressure controller
• Vestibules on doors to permit "pass through" of long parts
• 6' wide cabinet and two operator stations
• "Stealth®" cabinet option - 76 dba (at 6' (2 m)) while blasting. Quieter than most machines
• FanBlast Cabinet Nozzle: 6" (15 cm), 1-1/4" NPS, part number 427-205-66

NEVER USE WITH SAND ABRASIVE.

ALL ABRASIVE BLASTING CREATES BREATHABLE PARTICLES OF DUST WHICH MAY INCLUDE SILICA AND WHICH MAY LEAD TO VARIOUS DISEASES INCLUDING SILICOSIS, A LUNG DISEASE THAT CAN BE FATAL. ABRASIVE REBOUND OR DIRECT BLAST MAY ALSO INJURE AN UNPROTECTED OPERATOR. THEREFORE, SAFETY REQUIRES THAT THOSE PERSONS IN THE AREA OF ABRASIVE BLASTING ALWAYS WEAR PROPERLY SELECTED AND MAINTAINED GOVERNMENT APPROVED RESPIRATORY EQUIPMENT AND FULL PROTECTIVE CLOTHING, FROM HEAD TO FOOT. IF YOUR PAINT OR PROCESS DUST IS HAZARDOUS, AN OPTIONAL HEPA FILTER MAY BE REQUIRED. BEFORE USING MACHINE GET APPROVAL FROM YOUR SAFETY DEPARTMENT.

In accordance with our program of continued product improvement, specifications are subject to change at any time without notice.