Dust Collection
Ram Cartridge Filter Dust Collector
Pauli Systems is the leader in abrasive blasting dust collection with systems from 900 to 44,000 CFM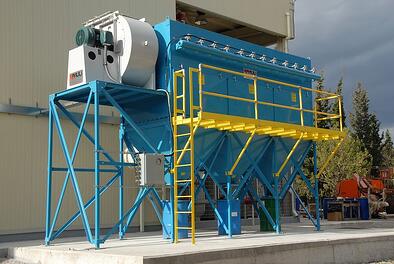 High air cleaning efficiency,
Long filter life and low energy costs.
Overview

Description:
• Advanced design lowers operating cost, improves performance and increases collector life and filter media life.
• Platform and ladder provide OSHA approved access.
• Automatic filter cleaning via electronic solid state pulse control with Magnehelic or Photohelic enables maximum efficiency and long filter life.
• Steep (min. 60 degree) hopper discharge into drums for ease of disposal, operator safety and longer filter life.
• Turn-key installation.
• Cost-effective operation from lower filter pressure drop, longer filter life, greater air volume, and less downtime.
• Compliance with EPA and OSHA regulations.
• Pauli Systems Service provides factory trained, experienced field technicians for installation and continuing service.
• Filters for all applications and processes.

Function



Dry paint stripping


Overview



PMB (Plastic Media Blast) or Starch Media Blast
Advantages

Wide array of applications:
RAM Dust Collection Systems are found in a wide range of processes. Metal finishing, abrasive blasting with various media, powder handling, powder coating, grain and feed, paper and printing, food processing, ceramic tile, plastics foundry, and other applications are effectively controlled with RAM Dust Collection Systems. Versatile and effective, you can count on RAM Dust Collection Systems to deliver clean air day after day.
Filters for virtually every need:
Pauli systems can provide filters for almost every need: flame retardant, moisture resistant, non-stick, HEPA grade and others.

Continuous efficient dust collection:

The Pauli systems Cartridge Dust Collector is an aspirated cartridge, self-cleaning dust collector. Incoming air passes from the outside to the inside of the cartridges, enters the clean air plenum and exits through the clean air outlet. Cartridges are effectively cleaned by back flushing with airflow reversal that is induced by a short burst of compressed air to each cartridge sequentially. As a result, the unit continues to collect dust even as its filters are being cleaned.

Solid-state control system:

Two types of electrical control boxes are offered. Type P and type M. Each of these control boxes encloses a solid-state sequential controller to direct three phases -sequence of back-flush pulse control valve operation, duration of pulse, and time interval between pulses. The Type M Control Box operates continuously whenever electrical power is supplied. The Type P Control Box only operates when the filters have collected sufficient dust to raise their pressure drop above the set point of the Photohelic differential pressure gauge. At that point pulse cleaning begins and when the differential pressure across the filters drops below the set point of the Photohelic, the cleaning cycle is stopped.

Pauli Systems provides:

• Turnkey dust control system design, installation, test, and maintenance




• Evaluation, Maintenance and Retrofit Services




• System survey and evaluation, maintenance contracts
Specifications for Ram 20,000 CFM Dust Collector (566 CMM)

Specifications for RAM 20.000 CFM Dust Collector (566 CMM)

One 20,000 CFM dust collector weather tight for outside installation is provided with 32 filter cartridges, having a total filter area of 10,000 sq. feet (930 sq. meters) and a (nominal) 2 to 1 volume to filter area ratio.





The cartridge filters are automatically cleaned with electronically controlled reverse air pulses. A 110 volt (or other) pulse control panel with solid state controller sets cleaning sequence, pulse duration and cycle time between cleanings, all inside a NEMA 12 enclosure.





The cartridges provide filtration efficiency from 99.7% at 0.5 micron to 99.9 at 0.3 micron depending on requirement.





Blower and Motor Electric Motor is TEFC, 30 HP, 1.15% service factor, 1750 RPM, 460 volt, 3 phase, 60 Hz (other electrical systems available). Blower provides 20,000 CFM (566 CMM) volume through the ventilation system @ 6.0" of static pressure. Also supplied with the dust collector is an explosion vent.





Units are available in standard design or customized for your process and facility.